The Company
The expert has absolute confidence in DELTA machines, for they are from the motherland of "Spaetzle" and "Knoepfle"!
DELTA-WERK-KERN is your manufacturer and supplier of excellent-quality machines for making noodles known as Spaetzle and Knoepfle. Our machines are easy to operate, quick, powerful, well worth the money. Cleaning is simple and requires only a minimum of time.
Their straightforward design, robust structure, and excellent material properties guarantee long service life and best product quality at a fair price-performance relationship.
Thanks to their sound, practice-oriented accessories, DELTA machines are suitable for a universal field of application.
Our company is domiciled at Rottweil in Swabia, the motherland of Spaetzle and Knoepfle.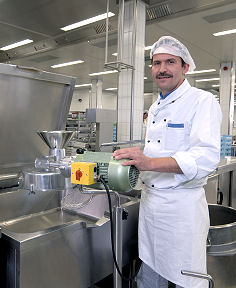 Vinzenz von Paul Hospital, Rottweil


im Zeitspiegel
1966



Firmengründung durch Ewald Kern, Herstellung und Vertrieb von Großküchenmaschinen
1972



Entwicklung und Bau der ersten Knöpflemaschine. Der Delta Streifenschneider kommt auf den Markt
1975



Die weltbekannte Haushalts-Spätzle-Hex wird erfolgreich prodzuiert und vertrieben
Erstmalig Aussteller auf der Südwestmesse
1983



Die erste Schupfnudelmaschine wird vorgestellt
1995



Die Super-Spätzle-Hex mit mehreren Einsätzen kommt auf den Markt
1996



Der Sohn, Ingo Kern, übernimmt die Firma
2005



Erwerb des GS- Zeichens
2006



Aussteller auf der Intergastra in Stuttgart
Weitere Innovationen in Vorbereitung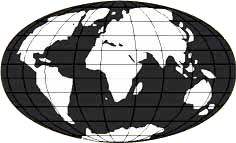 Our range of products
You can get information on our products quite easily from your home or your company, send enquiries to this purpose, or ask your competent dealer for DELTA machines.

For everything we offer, we pay great attention to an attractive price-performance relationship and make sure that our quotation is tailored to your specific requirements.

DELTA-WERK-KERN is, however, much more than only a supplier of machines for making spaetzle and knoepfle. We provide extensive advice and share our experience of long standing with our customers.

We regard ourselves as an enterprise whose efforts are focused on providing services to our customers. This is why the economic well-being and interests of our customers have priority over any other considerations. We measure the quality of our work against the satisfaction and future success of our clientele.

Yours sincerely
Ingo Kern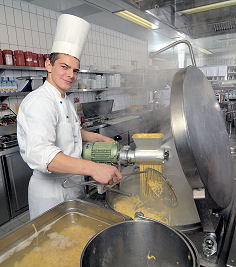 Golfhotel Öschberghof, Donaueschingen